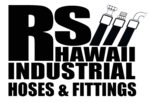 HONOLULU, HI 96817, UNITED STATES


Whether you simply wish to order from our selection of industry-leading hoses and fittings or need our mobile team to visit your jobsite in order to provide the onsite services you need to avoid costly downtime. Our mobile service team also takes great pride in their ability to duplicate damaged products onsite rather than waste precious time special ordering from offshore distributors.
​Whether you are in the construction, agriculture, fishing, or other hydraulic power dependent industry, simply Contact Us for more information about how we can assist with your hose and fittings needs today!